FREE OIL CHANGES FOR THE LIFE OF YOUR LOAN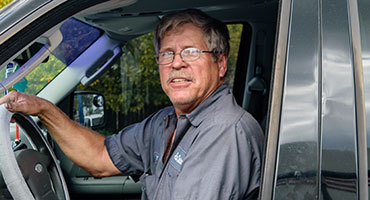 Danny Newell - Mechanic
How to Make Your Car Last Forever... Or At Least, For As Long As Possible
The key thing is proper care and proper driving.
AUTO SELECT provides all our current open accounts a FREE Lucas oil and filter change every 90 days. We add one quart of LUCAS oil treatment additive to every oil change. Lucas Oil Stabilizer is a 100% petroleum product formulated to eliminate dry starts and reduce friction, heat and wear in any type of engine.*
AUTO SELECT provides our service department for our customers only at a labor rate of $79.00 per hour. All parts are at a reduced rate. All estimates are FREE.
AUTO SELECT has employed three of the highest professional qualified mechanics in our industry. Mike Lindberg our service manager has over 27 years experience. Our associate mechanics Chris Strickland with over 20 years experience, and Mark Baron with over 35 years experience are here to serve you.
AUTO SELECT provides our customers with financial assistance on maintenance and repair costs for qualifying accounts.**
*Current open Accounts with Quality Acceptance Corp. (QAC) qualify for our free oil and filter changes every 90 days. Customers who drive more than the allotted miles within the 90 days will only pay $29.00, which is our cost for the Lucas oil & filter change.
**Current open Accounts with Quality Acceptance Corp. (QAC) may qualify for financial assistance (called side notes). Ask one of our associates for details on our Financial Assistance Program.